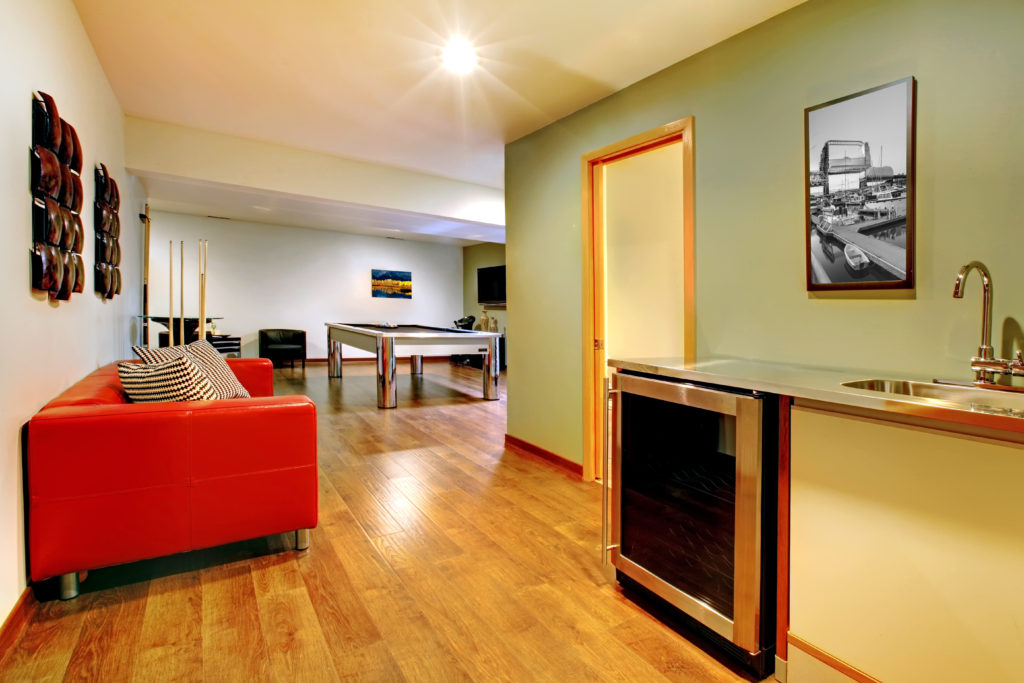 If you have an unfinished basement space that you only use for storage – or ignore completely – you are really losing out on a great part of your square footage. With just a little love and care, your basement could become any one of a number of different additions to your home, including:
Entertainment Space: Whether this means installing a home theater system in your basement, turning it into a playroom for your children, or transforming your basement into a hip hangout room with a bar, turning your basement into a space for entertainment is a great way to upgrade your home and increase its value.
Home Office: If you work from home, turning your basement into a home office can be a great choice. It lets you be close enough to your family that they can reach you if they need you, while providing you the space and privacy you need to conduct meetings, deal with paperwork, and more. We can customize your basement office to fit the unique needs of your work, whether that means installing additional storage, ensuring that you have access to plenty of electrical outlets, or making space for a meeting room.
Gym: What better place for a home gym than your basement? Being underground will help reduce some of the extra noise that gym equipment can cause. Plus, having such an expansive space to transform into a gym will mean creating exactly the type of workout experience you desire. We can help you create that space; just tell us your ideas and we'll bring it to life.
Guest Suite: If you have an older family member you are inviting to live with you or you simply want a comfortable space for your guests to stay when they are visiting, consider turning your basement into a guest suite! We can help you install a bathroom, arrange the space to create separate sleeping and living areas, and so much more.
And more! The possibilities are truly endless. Your basement can be so much more than just a bare concrete room where you do your laundry or store stuff. Plus, renovating your basement can add a ton of property value to your home!
Finishing or remodeling your basement can come with its own set of unique challenges, and it is best not to attempt it alone. Issues like making sure your space is properly lighted, protected against water damage, and has the correct wiring can make the difference between a poor basement renovation and a great one. You'll also want to be sure that your basement is properly insulated and that your contractor has taken care to address any potential issues with leveling, mildew, and other common issues that can strike. At M&D Home Repairs and Remodeling, our team has extensive experience in handling a wide variety of basement renovations, and we can take care of any problems that arise with minimal stress to you and your family.
With just a little care, M&D Home Repairs and Remodeling can turn your basement into an additional space that will increase your living area and be bright, welcoming, and fun. No matter what you choose to use your basement for, our team can help you turn your dreams into reality.
Why Choose M&D Home Repairs and Remodeling?
At M&D Home Repairs and Remodeling, we work hard to complete every project on time and within your budget, using only the best materials. We also strive to provide you with superior customer service. Our team is passionate about your satisfaction, and works hard to make sure you are happy with the completed results.
We understand that remodeling any part of your home can be stressful, and we want to make sure that you have a fun, fulfilling experience when you work with us. That's why we will be available to you every step of the way, to answer any questions you may have and provide you with status updates. You'll always know exactly what is going on with your basement renovation when you work with our professional, knowledgeable team.
Whether you have decided on remodeling your basement and are trying to find the best contractor or are still unsure and have questions you want to ask, give us a call. We'll happily set up a consultation with you to let you know how we can help you, what your options are, and how we can turn that dark basement space into a great living area that you can use for years to come. Let us show you why so many of our clients have given us great reviews and recommended us to their friends!