Your kitchen should be a space you can entertain in, prepare meals in, and enjoy life in. But if you have a too small or outdated kitchen, you might find it to be frustrating, stressful, and somewhere you want to avoid at all costs. At M&D Home Repairs and Remodeling, we want to remove that stress by working with you to create a stunning kitchen that meets your unique needs and falls within your budget. Don't let a too small or too old kitchen get in the way of entertaining guests, cooking for your family, or enjoying your home's space. Instead, work with a local remodeling contractor who's dedicated to ensuring that you are happy with your home.
Since 2010, we have been your locally owned and operated kitchen renovation specialists, working with clients in Northern Virginia to bring their kitchen visions to life. We believe that every client is special and has their own vision for their home, whether their kitchen is too small and needs to be expanded or they are simply looking for a total style overhaul of their property. That's why our professional team makes sure to take our clients' needs, style, budget, and timeframe into account when customizing a kitchen design. You'll never get a cookie-cutter layout and design from us. Each kitchen is specially crafted for our individual clients.
And we can help you with everything! As a full-service remodeling contractor, we will handle your cabinetry, flooring, countertops, and much more. We'll make the most of every inch of available space and every dollar in your budget to create a kitchen that you will truly love to spend time in, whether you are someone who's looking for a space to entertain in or you just want a kitchen that is more functional for your family. Plus, we'll make sure that it flows seamlessly and blends with style of the rest of your home, so that everything stays connected.
Benefits of a New Kitchen
In addition to providing you with the space and functionality you need, a new kitchen can increase the value of your home if you intend to sell. If you have older appliances or lighting fixtures, updating your kitchen can actually reduce your energy costs as well, helping you to save money while making your kitchen more energy efficient and eco-friendly.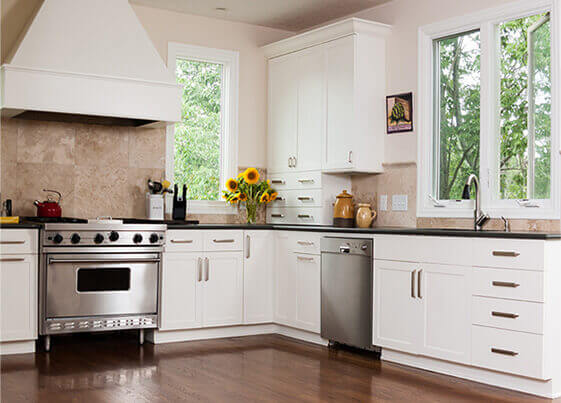 Plus, upgrading your kitchen can help make it safer for you and your family! For instance, you can implement some universal design changes that will make your kitchen more user-friendly, no matter the age of the user, and upgraded ventilation can help remove unpleasant odors and reduce the heat from cooking. That way, your kitchen will be both safer and more comfortable for yourself, your family, and your guests.
Why M&D Home Repairs and Remodeling?
Our owner has a passion for home renovation, and passes that passion and commitment for superior service onto his team. No matter how big or small your job is M&D Home Repairs and Remodeling will make sure that everything is done to the highest standards. You'll never have to worry about us cutting corners on materials or skimping out on the work, because we believe that having satisfied clients is the best part of every job.
In fact, we believe it so much that we have won "Best Service Provider on Angie's List" for our kitchen remodeling services. We are not happy with a kitchen until we have made sure that you are happy, and we will not leave a job site until we have guaranteed that you are satisfied with the work we have done for you.
We know that remodeling any part of your home can be a stressful experience, and renovating your kitchen can be even more so. It's the heart of your home, where you cook and eat and feed your family, and having it out of commission can be very emotionally draining. That's why we work very hard to complete every kitchen remodeling job we do on time and within budget, and why we will always keep you up to date with everything that is happening. We are always available to answer any questions you may have and address any concerns.
Whether you know exactly what you are looking for with your kitchen remodeling project or you are hoping for some guidance, do not hesitate to get in touch with M&D Home Repairs and Remodeling today to schedule a consultation. As your local home remodeling experts, we'll happily help you create a design that brings your ideas to life and work with you to build a kitchen that you'll love for years to come.