Top Paint Colors of 2020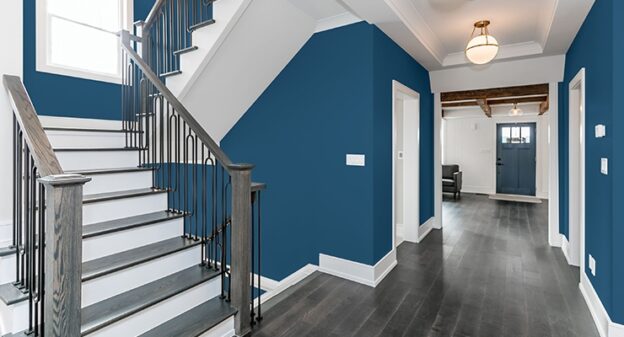 These are The Top Paint Colors of 2020
At the end of each year, almost every major paint brand releases its "Color of the Year" – a hue that each company deems the best representation of trends in interior design, culture, and lifestyle.
So what are the top paint colors of 2020? Here, we're running down a list of some of the colors the big paint brands have chosen as the color of the year. Interestingly, they're almost unanimously shades of pink or blue!
Sherwin-Williams Names Naval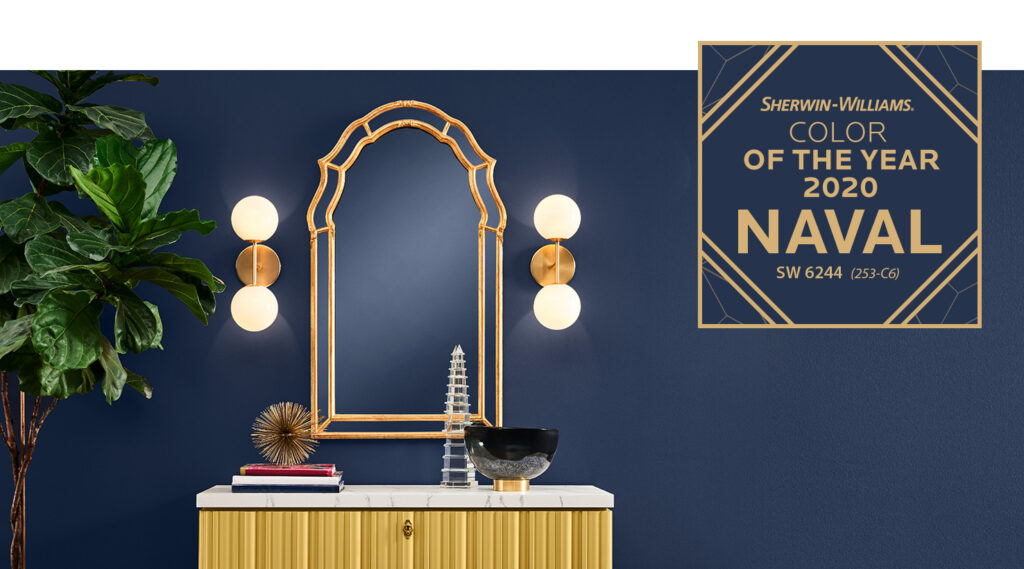 While the majority of blue hues will be light and airy, Sherwin-Williams strikes a balance between calm and confidence with the announcement of Naval as its top paint color choice for 2020.
"It's not just about what a space looks like anymore, but how it makes you feel," said Sue Wadden, Director of Color Marketing at Sherwin-Williams.  "People want to feel grounded and inspired to pursue their mental, physical and emotional well-being."
PPG Recognizes Chinese Porcelain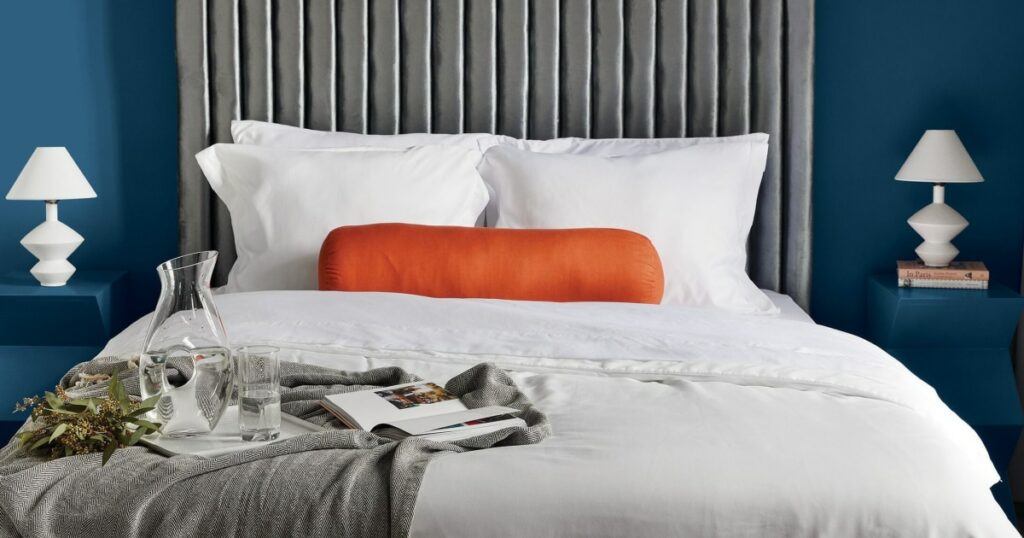 PPG reiterates the importance of atmosphere, as they strive "to help you find peace in a restless world," by naming Chinese Porcelain, also a blue shade, as their top paint color of 2020.
"The faster technology moves and the more convenience it offers, the more we seek activities, experiences and lifestyles that impart slowness and realness into our lives," states Dee Schlotter, Senior Color Manager at PPG.
Benjamin-Moore Declares First-Light
Benjamin-Moore declares First-Light as the 'backdrop for a bright new decade'.  A rosy pink, First-Light blooms with potential, revitalizing a tired spirit.
Blue Danube, Buxton Blue, and Windmill Wings also renew your spirit, as they make it onto Benjamin-Moore's Color Trends 2020 Palette.  The ten harmonious hues of blues, greens, and neutrals lighten your mood and invigorate your home.
The full 2020 Palette includes:
Valspar Does Not Settle 
Just like Benjamin-Moore, Valspar released its 2020 paint color palette but unlike Benjamin-Moore, Valspar did not name just one color as its front-runner, they announced an entire collection inspired by nature to bring serenity into your home.
The "prescription for the chaotic, busy lives we all live is to bring the tranquility of nature and the outdoor world into the home," stated Sue Kim, Valspar's Color Marketing Manager, in a press release.
The Valspar 2020 Paint Colors of the Year:
Winter Calm
Mint Whisper
Canyon Earth
Grey Brook
Tempered Sage
Desert Fortress
Secluded Garden
Bombay Pink
Pale Powder
Utterly Blue
Crushed Out
Secret Moss
Behr Takes Us Back to Nature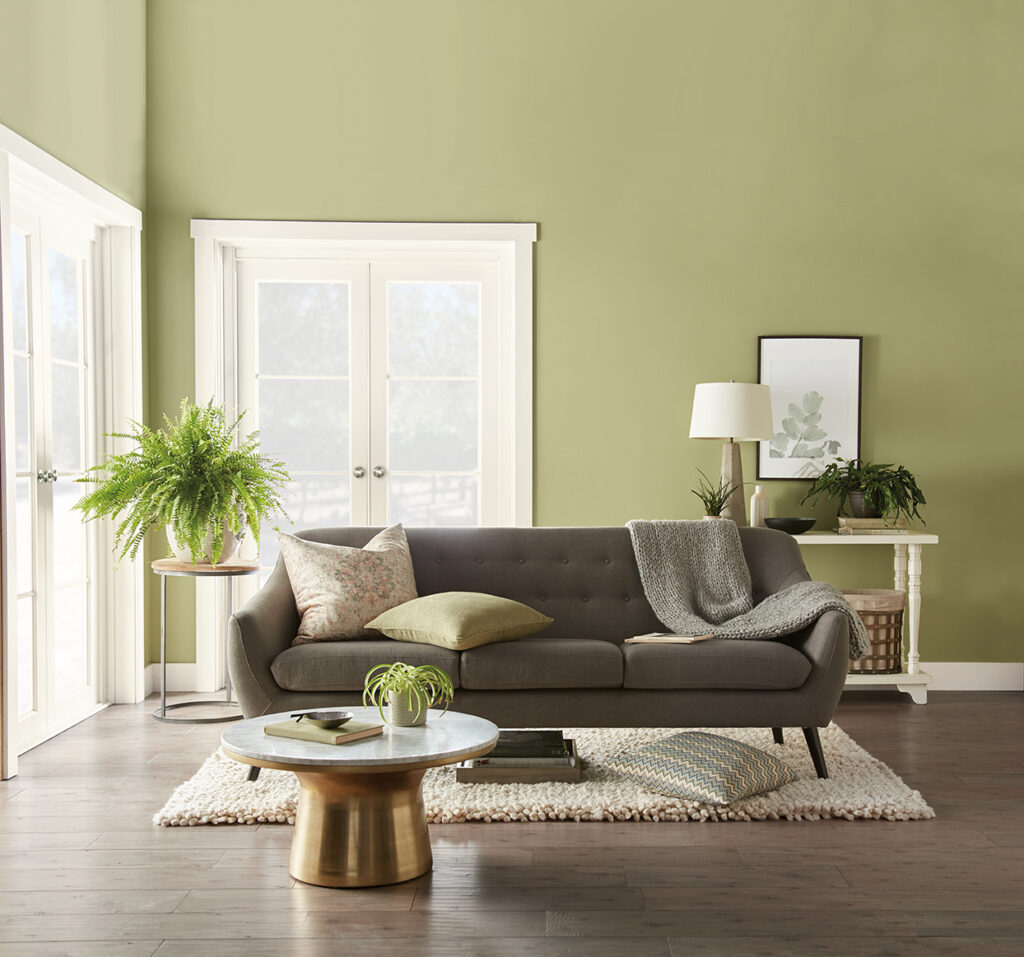 Behr strives to bring the restorative aspect of nature back into our lives as well, by naming Back to Nature, a revitalizing green, their top color.  "Visiting nature is the time-honored method to balance and rejuvenate the spirit," states Erika Woelfel on Behr's blog.  It's "all about awakenings".
The focus of a new decade is selfcare and living a vibrant life.  The top paint colors of 2020 reflect this perfectly.