Caring for Stone Floors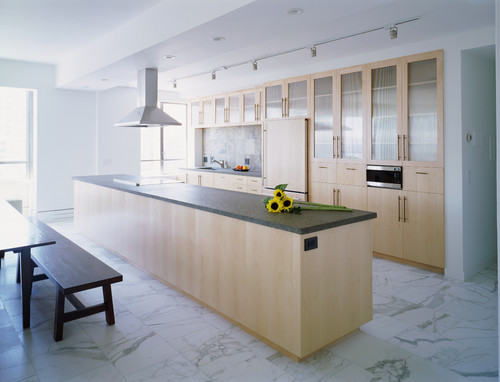 Photo by Winder Gibson Architects
Chances are that when you think of a really spectacular bathroom or kitchen renovation natural stone appears somewhere in the picture you have in your head. Marble, granite, slate, and limestone are just a few of the gorgeous stone options readily available to homeowners these days.
Stone Flooring: A Classic Choice for Good Reason
There are some fantastic man made flooring options these days, but natural stone will always remain a popular choice. Stone flooring, counters, and tile increase a home's marketability. They are timeless in their appeal, are one of the finest building materials you can choose, and age beautifully when cared for properly.
Caring For Your Stone Floors
Of course while stone floors may seem like they should be indestructible, they do require some special care to keep them looking their absolute best. The first and best line of defense you can give your natural stone floor happens during the installation process. Sealing the stone and grout gives your flooring a base coat of protection against spills and daily wear and tear. Certain types of stone sealants need to be applied prior to the grout installation, so check with your contractor or a representative at your local tile shop or home improvement store to make sure this is done in the proper order.
Once your flooring is properly sealed you will want to be careful to keep dirt or debris from collecting on your beautiful new floor, as shoes or feet walking across it can grind dirt into the surface of the stone. Over time this can lead to etching or scratches, so regular cleaning with a broom or dry mop is recommended. Areas rugs or runners are another great way to protect your stone floors while complementing your room's style.
Your stone floor should be wet mopped occasionally with water or a neutral cleaner. Cleaning with even a mild basic or acidic solution can cause damage over time. Often people will recommend homemade cleaners consisting of water and vinegar or lemon juice, but these solutions do not have a neutral pH and will slowly etch the surface of your natural stone flooring. Stick to solutions that are safe for stone by checking the packaging or consulting an expert at a tile or home improvement store.
Resealing Stone Floors
Even with an initial sealing at installation, your floors will benefit from an annual reapplication of sealant. This will help maintain your stone's barrier against dust, dirt, and any liquids that may come into contact with it. Resealing can also help maintain the shine of your polish stone flooring. Honed stone flooring should never be re-sealed or waxed with topical solutions meant to add shine as these products can result in an unsafe and slippery surface.
How Can We Serve You?
With proper care stone floors will last you a lifetime and are an excellent material to incorporate into your home during your next remodel. As always, if you have any questions or would like help turning your home into a space that is as beautiful as it is functional, don't hesitate to give us a call.