Winter is coming to an end and with Spring right around the corner what better time to start thinking about cleaning your home siding, deck or patio. Since your home is exposed to all the earths' elements, kids, and pets, it is important to maintain your outdoor living space.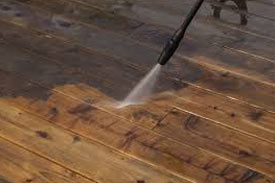 Pressure Washing is a great way to prevent unsightly build up and removing dirt, grime and can protect your homes color and paint for years to come. It is also a great alternative to sanding and stripping your deck.
Sometimes a garden hose is not enough. A pressure washer is a more efficient and powerful tool to use when cleaning your outdoor living space. It cleans by creating a high pressure stream of water that hits the surface with a large amount of energy; it then removes the dirt while delivering a constant flow of water to wash the dirt away.
Pressure Washing & Deck Cleaning Steps
Use a low pressure tip to apply a wood clearer that is formulated specially for pressure washers
For heavy stains you can use a rotating scrub brush attachment.
For deck railing apply solution from the bottom up.
Allow about 5 min for solution to work but do not let it get dry keep it wet.
Flush out any additional cleaning solution out of the pressure washer.
Rinse your deck with high pressure tip cleaning 1 or 2 boards at a time. Keep in mind to follow the grain.
For deck railing clean from top down.
Let everything air-dry for 48 hours.
Then you are ready to paint, stain or apply a sealer preservative.

If all of this sounds daunting, don't worry our pressure washing service is capable to handle any task. We can meet all your power washing and deck repairs needs.